The bridge between local knowledge and global expertise – Trowers is one of the longest standing international law firms in the United Arab Emirates.
As at home in the Middle East as we are on the international stage - over half of our team in Abu Dhabi are fluent Arabic speakers, and all of us are experts in understanding your issues and delivering great long-term value. Broad in our experience – every client has our entire firm at their fingertips, but can always rely on the personal touch of a dedicated partner at the heart of their relationship.
As sectors change and legislative environments evolve, we are a trusted advisor to our clients. Unique in our ability to truly understand the local market and the global big picture, we act for government, institutional investors, diverse businesses from multi-nationals to entrepreneurs and family offices on a wide range of local and cross-border projects and transactions.
Famed for our expertise in the real estate sector, we have deep experience in major infrastructure projects, private equity investments, and corporate and commercial transactions. We are also known for our success in advising in the oil and gas industry.
In brief
Working with clients in the energy, retail, real estate and construction, hospitality, health, education, infrastructure, financial services, IT and defence sectors
Acting for government departments and across the public sector
Trusted adviser to businesses and organisations on local and cross-border transactions
Location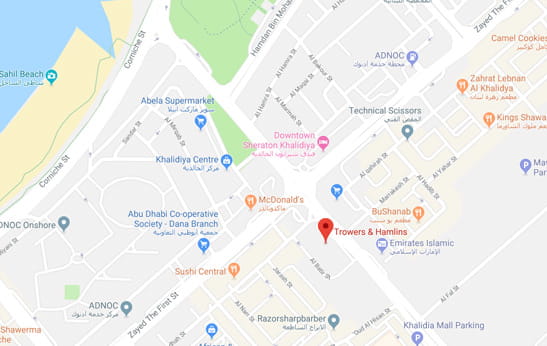 Office 3103, Floor 31
Shining Towers
Mubarak Bin Mohammed Street
PO Box 37021
Abu Dhabi
United Arab Emirates