What is SEIS & EIS? And what this means to your potential investors?
---
Share
As the competition for funding is tough - the challenge for you is great. With very little or no financial history in place, you must prove you are a sound investment. Convincing investors in a crowded marketplace is not easy.
When pitching for funding, crucial elements to get right in your investor pitch include a clear go-to-market strategy and having a scalable plan in place backed by a strong team. The good news is that in order to help businesses in the UK, investors are eligible for tax benefits as an additional incentive to invest in you – so make your pitch a win:win for both parties.
The two schemes that allow investors to obtain a benefit when putting money into small and start-up companies are
Seed Enterprise Investment Scheme (SEIS) – for initial stage start up and smaller businesses
Enterprise Investment Scheme (EIS) – for slightly larger, scale up businesses that need further investment to prosper
The investor cannot be connected to your business and the investment must be made for genuine commercial reasons and not for tax avoidance purposes.
How investors benefit
EIS investors may claim relief against income tax for funds used to subscribe for new ordinary shares issued by qualifying companies, up to an annual investment limit of £1 million (or £2 million in the case of "knowledge-intensive" companies which allocate a specific portion of their financial resources to research and development and are principally concerned with the creation of intellectual property and/or 20% of the company's workforce are research and development specialists) and their tax liability is reduced by 30%.
The same applies to the SEIS investors but the annual investment limit for SEIS is £100,000 and their tax liability will be reduced by 50%
Under both schemes, the shares purchased by the investor must be held for three years' Capital Gains Tax (CGT) can be claimed on the disposal of those shares following this three year time period
What you need to do to enable your potential investors to access benefits under these schemes
As an issuing company, there are certain factors that the issuing company must comply with in order to be considered a 'qualifying company' and therefore providing their investors with the opportunity to be able to use the SEIS and EIS schemes.
Your company must have the following characteristics, some of which are the same for both schemes, and others have different requirements for the SEIS and EIS schemes.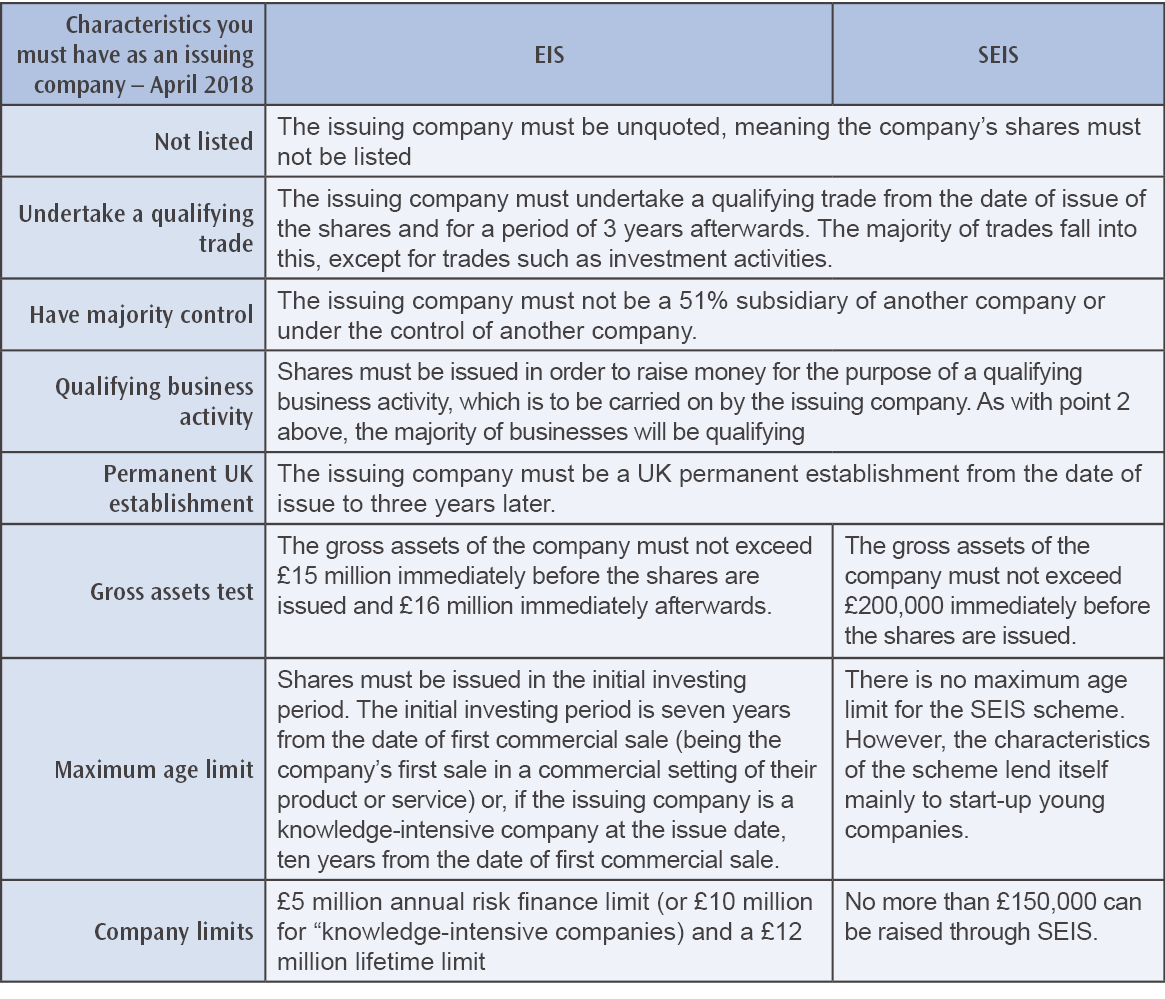 Please contact the Trowers' team for more information. We have also produced a series of fact sheets to help you, so click here to access our online resources.